Updated 31 May 2022: The deportation of refugees to Erbil has been cancelled.
ESTA: SULAIMANI (ESTA) — Forced deportation of asylum seekers from the United Kingdom has been annulled, the Federation of Iraqi Refugees said on Tuesday.
"The order to forcibly deport asylum seekers has been annulled," the Iraqi federation said, citing British refugee adviser Awan Abdulla as saying.
The federation further said no planes would be allowed to transport asylum seekers forcibly deported from the UK to Iraq without the federal government's decision.
The federation cited an asylum seeker who is in custody in London as saying that the Home office had informed him that the decision to forcibly deport him had been revoked.
More than 60 asylum seekers, most of whom are from the Kurdistan Region, are in custody in the UK, according to the Iraqi federation. They were scheduled to be deported to Erbil on Tuesday.
On May 26, the Kurdistan Regional Government (KRG) denied rumors that it had reached an agreement with the British government over the forced deportation of Kurdish asylum seekers.
Campaigners against flight say Kurdish Iraqis had endured 'unnecessary torture in pursuit of headlines'
The Home Office has cancelled a chartered deportation flight to Iraq that was due to depart from the UK on Tuesday evening.
Up to 30 Kurdish asylum seekers were facing deportation to northern Iraq in the first flight of its kind for a decade.
Dozens of Kurdish Iraqis had been detained in preparation for the flight. Many the Guardian spoke to were in a state of acute distress because they fear for their lives if they are returned to the country of their birth.
The UK Foreign Office warns against all travel to Iraq and says there is "a high threat of kidnapping throughout the country including from both Daesh [Islamic State] and other terrorist and militia groups".
Home Office contractors involved with Tuesday's deportation had to undergo special training to help them deal with the risk of dangers such as kidnap or hostage situations. This training is not required for the destinations of other recent Home Office deportation flights, such as Jamaica and Albania.
Read more: https://www.theguardian.com/uk-news/2022/may/31/home-office-cancels-flight-to-deport-kurdish-asylum-seekers-to-iraq
---
Dear representative of refugee organizations and Human right activists!On behalf of the International Federation of Iraqi Refugees (IFIR) and the people detained in Harmondsworth,brockhouse and Colnbrook detention centres, I would like to thank everyone who came out today to oppose the planned deportation of Iraqi Kurds, some of whom have been in the UK for more than 20 years. These refugees are married with small children.We are protesting in front of your office against the inhumane agreements you struck with the UK Home Office.The Home Office has detained a number of Iraqi Kurdish asylum seekers in Harmondsworth,brockhous and Colnbrook detention centres in the last three weeks. The Home Office has given them tickets to fly back to Erbil tomorrw.This policy, we believe, is the result of a recent meeting between Priti Patel and Kurdish Regional Government's Prime Minister Masrour Barzani during his recent visit to the UK.KRG must be aware that as a result of this shamefulagreement, they are removing families and children from their fathers. These people have spent many years establishing themselves in the United Kingdom. Do you want to send them back to a country which lacks fundamental necessities such as power, water, medication, and freedom? To a country where human rights are routinely violated. When people demonstrate, the government uses live ammunition to attack them. Many people, including journalists who have spoken out against corruption and government policies, have been killed, imprisoned, or arrested.People are angry because you refuse to accept responsibility for the suffering of your own citizens. You must take responsibility for this shameful deal with the UK Government. We demand that the KRG must stop accepting refugees who have been forcibly returned to Erbil Airport by closing the airport.We also urge that the arrangement made with the UK government be cancelled.Thank you for attending. We must continue to resist this inhumane immigration policy and make it clear that it will never be accepted.
---
Updated 28 May 2022: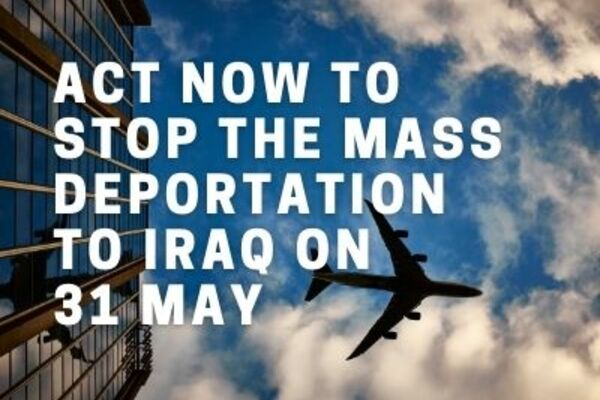 Hear from those on the flight & show your support by emailing your MP.
All the names have been changed to protect our clients' identities.
We have encountered a number of Iraqi nationals who have been detained from the community. Many have been in the UK for decades and have very few remaining connections in a country that has been torn apart by invasion and protracted conflict in recent years. Some people are fearful of the treatment they will receive upon return.
Those facing removal are seeking to resist their removal in whatever way they can. We recently received an email petition from Colnbrook IRC stating the following:
https://www.biduk.org/articles/bid-statement-on-mass-deportation-flight-to-iraq-what-you-can-do-to-stop-it
'Despite knowing about this flight for many weeks, the Home Office only issued people with their removal ticket last weekend – just over a week before the flight, and on a day that lawyers are not working.
'In the attempt to deport as many people as possible on this single flight, the Home Office appears to be obstructing access to justice.
'We are impressed by the organising work being done by Iraqi nationals who are currently detained, who are uniting to raise awareness of the injustice.'
https://metro.co.uk/2022/05/24/uk-resident-for-20-years-one-of-up-to-50-facing-deportation-to-iraq-16699795/
---
Sharif, a parliament member of the ruling Kurdistan Democratic Party (KDP), told Kurdistan 24 that the rumor the KRG reached a deal with the UK to forcefully return failed asylum seekers is false.
ERBIL (Kurdistan 24) – Chiya Sharif, a member of the Foreign Relations and Kurdish Diaspora Committee, told Kurdistan 24 that his committee and the Kurdistan Regional Government (KRG) are against the enforced return of Iraqi Kurds from the United Kingdom.
The British government in recent years has taken more strict asylum procedures to limit illegal migration to the United Kingdom.
In an update on Mar. 29, the UK government said they will work to enforce returns for failed asylum seekers who fail "to comply with our attempts to return them."
Moreover, on Apr. 15, the UK government signed an agreement with Rwanda to send new asylum seekers crossing the English Channel to the African country.
Sharif, a parliament member of the ruling Kurdistan Democratic Party (KDP), told Kurdistan 24 that the rumor the KRG reached a deal with the UK to forcefully return failed asylum seekers is false.
The UK Home Secretary, Priti Patel, on Apr. 20, hosted the Kurdistan Region's Prime Minister Masrour Barzani in London. During their meeting, Patel updated Barzani on the UK's deal with Rwanda and how it "will help break the business model of the people smugglers behind the small boat crossings in the Channel."
In a Facebook at the time, Barzani said that she "thanked us for the coordination and cooperation of the KRG with the British government on the illegal immigration issue."
However, Sharif told Kurdistan 24 that there is no deal between the UK government and the KRG on forcefully sending Kurdish asylum seekers back to the Kurdistan Region.
"The KRG government is against the forceful return of Kurdish asylum seekers," he said.
"We, as the Foreign Relations and Kurdish Diaspora Committee Committee, are against any forceful deportation of Kurdish asylum seekers," he added.
However, he said the committee is not against voluntary returns to the Kurdistan Region.
He added that some Iraqi Kurds who have grown tired of waiting for long periods for their asylum approval have been willing to go back.
Several Kurdish migrants in the past have drowned in the English Channel after trying to reach the UK from France.
https://www.kurdistan24.net/en/story/28473-KRG-opposes-forced-returns-for-Kurdish-asylum-seekers-in-the-UK:-MP
---